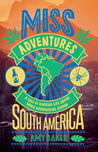 Miss-adventures: A Tale of Ignoring Life Advice While Backpacking Around South America
by
Amy Baker
My rating:
4 of 5 stars
A copy of this was provided free of charge from the publisher in return for an honest review.
Having had an idea to quit her job and go backpacking around South America, Amy started to tell friends and family of her intentions. What she wasn't quite expecting was the vast amount of advice that was proffered to her on what to see, where to go, what to do, and most frequently what not to do. Advice that was perhaps a little unnecessary and probably irrelevant too. So after her boss had told her that there was no money in travel writing and that she would come to regret it, she replied: 'I'm going to do it anyway'.
So begins Amy's full on adventure around a number of countries in South America, beginning right in the deep end, the Bolivian jungle. Here she manages to scare herself several times a day, swim in crocodile infested waters, and encounters spiders that she didn't know could grow that large. Having just survived the jungle, climbing a mountain seemed like a good idea, didn't it? She was joined by friends on various parts of the trip, as well as meeting loads of new people most of whom were friendly and occasionally those that weren't.
All the way through the book Amy considers that advice that she had been given. She realised that some of the advice that had been provided was sound, and some, shall we say was less than helpful… Weighing up that provided by friends, against some from experts Amy slowly concludes who provides accurate guidance and when it should be listened to. Amy is a competent writer and the book is scattered with genuine laugh out loud moments, so much so I was getting odd looks when reading this at lunchtime and sniggering. If you like books written by Tony Hawkes, then this is right up your street.
I do hope though that her mother hasn't read this book!
View all my reviews